Customized artistic decorations, jewelry, jewelry boxes ... and more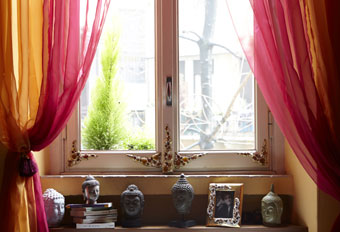 In my life I have been from the set to the painting, from the art of make jewelry to working
with resin and stones, to create unique mirrors: all the experiences I've had in my artistic
life are reflected today in other products, rigorously handmade.

In addition to mirrors, in fact, I use artistic techniques based on the combination of
precious and semiprecious stones, resin and colors for the personalized decoration of
rooms and objects.

I have experienced at first in my house how nice it is to transform a simple piece of
furniture or a door, a handle, a jamb, in a unique and valuable. An ashtray, an little jar, a
compartment or the door of a closet can be turned into small and simple works of art, to
give a room a little something more, a personalized touch of magic.

Thanks to the experience at Rubinia Jewelry (where is born the Filodellavita, a jewel
whose name has been registered), and at Misani Jewelry, I have kept the passion for
creating necklaces and pendants, rings, bracelets and other precious to be worn every
day, like I do, or on special occasions. As I have could never lose the passion to decorate
a bag or a belt and to make them unique, or enviable.

Even for these works, as well as for the mirrors, I guarantee the uniqueness of the manufactured pieces and the fact that they are completely handmade.